ASBESTOS
Asbestos kills around 5000 workers each year, this is higher than the number of people killed on the road. When materials that contain asbestos are disturbed or damaged, fibres are released into the air and can cause serious diseases. They often take a long time to develop (around 20 tradesmen die each week as a result of passed exposure), but once diagnosed it is often too late to do anything. There is an estimated 500,000 public buildings in the UK containing asbestos. Elements like ceiling tiles, thermal paper and wall plaster, insulation, cement siding and even switchgears and circuit breakers in older buildings present hazards to the unwary, particularly electricians.
MATERIALS HANDLING
Manual materials handling are those tasks that involve lifting, holding, carrying, lowering, pushing and pulling materials and material loads. While there are a variety of injury types associated with materials handling (bruises, punctures, broken bones), the most common is soft tissue damage, i.e. damage to muscles, ligaments, tendons, discs, cartilage and/or nerves.
HAND AND VIBRATION SYNDROME
Hand-arm vibration syndrome (HAVS) is the name for a collection of debilitating conditions associated with the continuous use of hand-held power tools and industrial equipment. The violent vibrations from such machinery can cause damage to nerves, bones, tendons, muscles and blood vessels, leading to chronic ailments such as carpel tunnel syndrome (CTS) and vibration white finger (VWF).
SLIPS AND TRIPS
Slips and trips were the most common accident kind (29%) reported by employers in 2018/19. Within the construction industry, HSE reports that there are several thousand workers injured on site each year, with approximately 1,000 of those ending up with a dislocated joint or fractured bone. The key factor with slips and trips is that, most of the time, hazards are easily avoided with proper work area management.
SUICIDE 
In 2018/19 246,000 workers reported suffering from a new case of work-related stress, depression or anxiety. According to the Office for National Statistics the suicide average amongst low-skilled male construction workers is almost four times the national average, putting the likelihood of suicide in the construction industry 63% higher than in any other reporting group.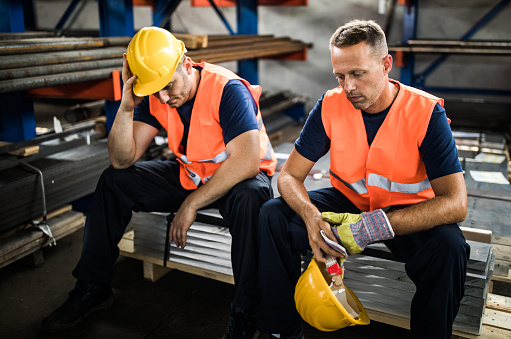 THINGS THAT CAN HELP
While the HSE and other websites offer a variety of advice regarding construction site safety, here are just a few tips:
Carry out daily pre-work site surveys to spot any potential risks and take pre-emptive action.

Hold mandatory safety meetings and tool box talks. Start each workday with a brief safety meeting discussing the day's plans, worksite changes, and reviewing appropriate safety measures. Hold regular tool box talks to ensure that workers are aware of appropriate procedures and responses, and that they are reminded of the importance of following them.

Make PPE mandatory. This includes proper clothing (including reflective vests) and safety equipment like gloves, hard hats, eye protection and ear protection.

Schedule regular breaks into the work day. Make sure that workers are taking enough breaks. Encourage them to look out for one another and create an environment where it is safe to speak up if someone is struggling or showing signs of absentmindedness or exhaustion.

Treat mental health with the same level of concern as you do physical health. Address it in tool box talks. Encourage frank discussion and conversation. Be proactive in providing means for workers to talk to a colleague or manager. Simple actions can make a big difference and possibly prevent someone from reaching the crisis point.
If you have any queries please contact us.